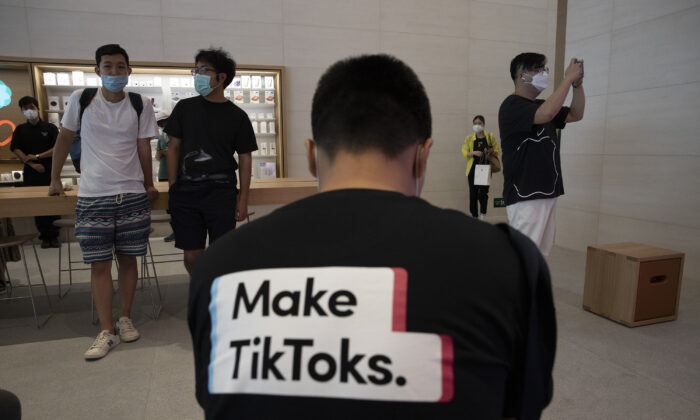 A man wearing a shirt promoting TikTok is seen at an Apple store in Beijing on July 17, 2020. (Ng Han Guan/AP Photo)
The Threat From TikTok Is Real: Congress Needs to Wake Up
Commentary
On Oct. 26, TikTok executive Michael Beckerman was asked by members of U.S. Congress if the app shares data with the Chinese Communist Party (CCP). Although Beckerman said no, there is reason to think otherwise.
With all this talk of Instagram, it's easy to forget that other problematic apps exist. In fact, according to a comprehensive survey carried out by analysts at Piper Sandler, Instagram isn't even that popular among U.S. teens.
Aptly titled "Taking Stock With Teens," the 91-page report outlines the responses of 10,000 American teenagers. Just 22 percent of respondents listed Instagram as their app of choice; interestingly, 30 percent named TikTok as their favorite app.
The popularity of TikTok is particularly revealing—and, more importantly, particularly worrying. Launched in its current form three years ago, the social media app now has 1 billion active monthly users worldwide; rather incredibly, it has been downloaded in the United States more than 200 million times. Why should we be worried? After all, it's just a harmless app, right?
Wrong.
As tensions between the United States and China continue to rise, the CCP has upped its cyberespionage game. Contrary to popular belief, TikTok is not a wholly unserious app designed to spread joy around the world. Created by ByteDance, a company with close ties to the CCP, TikTok should be viewed with a great degree of suspicion. As the Wall Street Journal reported back in June, the CCP now expects tech companies, including ByteDance, to share all its data with Party members.
At the very same time the CCP demanded access to data, TikTok introduced a new biometric policy solely catered to its U.S.-based users. The app now takes two key pieces of biometric data—"faceprints" and "voiceprints"—from every single U.S.-based user. The former involves the collection of digitally recorded representation of a person's face; the latter involves recording different aspects of a user's voice, including resonance, reverberation, intonation, rhythm, and pacing.
With at least 100 million users in the United States, that's a lot of personal information. Also, why would TikTok, a company with headquarters in Beijing, require this sort of information from U.S.-based users? More importantly, why is this policy aimed solely at U.S.-based users? This is a question Congress needed to ask Beckerman. It didn't.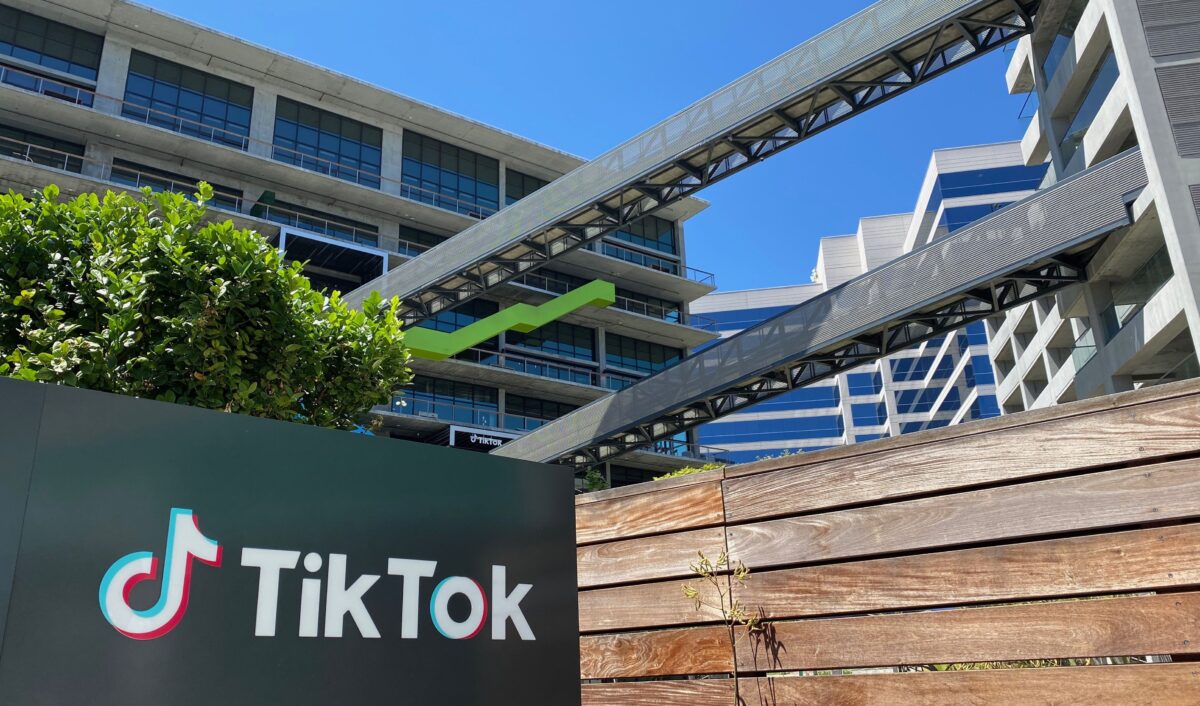 Could the CCP Be Weaponizing TikTok?
According to former employees, the answer appears to be yes. By providing users with algorithmically tailored videos, TikTok can easily be used to disseminate disinformation.
According to Kara Frederick, a fellow at the Center for a New American Security, this makes the app the perfect vehicle for spreading pro-CCP propaganda. Young Americans spend an inordinate amount of time on TikTok. In fact, American app users now spend more time on TikTok than they do on YouTube.
Instead of asking if the CCP would ever use TikTok to influence young, impressionable Americans, a better question to ask is this: why wouldn't it use the app to influence Americans? After all, it already uses Twitter to spread harmful propaganda.
As the nature of warfare changes, with boots on the ground being replaced by cyberhacks and killware, the threats we face also change.
TikTok is now the fastest growing app in the world; it provides a window into the lives of millions of Americans. The CCP already uses similar apps to spy on its own citizens, according to a recent report by Cure53, a German cybersecurity firm. We must wake up to the realities now facing us: If something can be weaponized, it will be weaponized. The United States and China are currently engaged in a new cold war; with the latter busy spreading disinformation about the former. The U.S. government should be on full alert.
Which brings us back to the potential threat posed by TikTok. Congress is responsible for making laws that influence the daily lives of 330 million Americans; rather alarmingly, it doesn't appear to understand the threat posed by social media apps. Furthermore, the Biden administration doesn't seem to care. In June, at the very same time as the aforementioned WSJ story was published, President Joe Biden chose to revoke and replace executive orders banning TikTok.
Now, China, a country known for extensive cyberespionage operations, is free to use the app to further divide a country that has never been more divided. Charles de Gaulle, the former president of France, once called silence "the ultimate weapon of power." Today, however, social media is the ultimate weapon. The Chinese Communist Party knows this. Sadly, the U.S. government doesn't. Such ignorance could prove to be very costly.
Views expressed in this article are the opinions of the author and do not necessarily reflect the views of The Epoch Times.