---
---
---
Let's End Workplace Mandates
While "omicron rages" across our state in the latest wave of this "casedemic," mandates continue to fail across the nation and across the world. Boris Johnson announced this week the end of government intervention in COVID management in the UK. Starbucks also dropped its employee vax mandate!
In his press conference held after last week's Supreme Court decision, even Governor Inslee said that while he didn't feel that the decision affected his authority over Washington State, he did not have plans to implement new mandates in the immediate future.
Be sure your employer gets the message. Make sure they know that there is NO mandate requiring corporations over 100 employees to enforce vaccination or even the "Test or Vax" alternative. The employer is at risk of assuming all legal liability if they continue to enforce it on their employees.
Start with a conversation and then use our paperwork to remind them of the law and your civil rights. Contact us if you need more help or if you hear of mandates being enforced on corporate employees.
The Tide is Turning AGAINST the Mandates!
Become a Legislative Watchdog
It's become clear that citizens need to keep an eye on what's happening in Olympia. But who has time to monitor all the legislation being proposed? WCRC would like to encourage everyone to support the efforts of Washingtonians For Change (WA 4 Change.) They have a group of seasoned veterans doing their best to study proposed legislation and sound the alert early on when feedback matters the most. They focus on key areas like Health and Education. Contact Janet H. by text at (206) 660-9717 to sign up to get notifications so you can "vote" on certain questionable bills with just a few clicks on your phone (or computer). Join Washingtonians For Change at their upcoming lunch, February 19th, in Seattle to learn more.
WCRC Educational Event in Olympia – Saturday, Feb 5 at 3 pm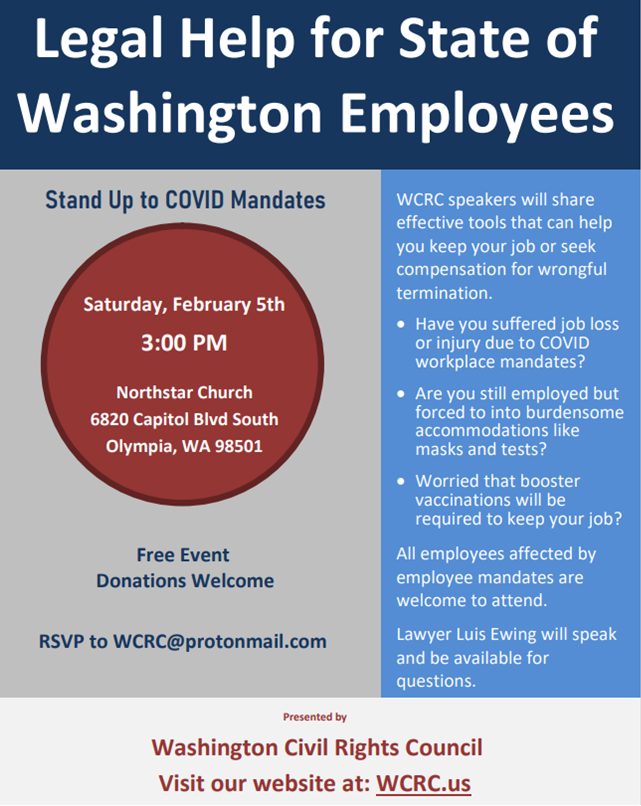 WCRC Support Meeting in Renton
Tuesdays at 5:00 PM
Join Kathleen and friends from varied backgrounds including service at Port of Seattle, City of Seattle, and other public and private employers. Join them for friendly support and basic questions about the law and your rights. Guest speakers to be scheduled. Address is 3900 E Valley Road Suite 105, Benton 98057. Please feel free to share with others looking for support and please RSVP in advance to Kathleen M. at: kamoriarty1968@gmail.com or 206-465-4404 and WCRC.us.
Volunteers Wanted
As we look ahead into 2022, we are excited that WCRC has been able to make such a positive difference in WA State when it comes to preserving and asserting our individual rights. WCRC now has more inquiries, education and advocacy work to do then ever. We are looking for a few good people that are ready to help others understand and stand up for the law! If you are interested in helping others in the Freedom community through legal advocacy and legal education, please get in touch with us by responding to this email.
Donations help fund our outreach and legal work that is so crucial at this time. Thank you!
(donations are not tax-deductible)
| | |
| --- | --- |
| contact@marchforfreedomwa.com 10002 Aurora Ave N #36 PMB 673 Seattle, WA 98133 USA | |