source  https://www.patriotsinformed.com/252050/Four-Day-Nationwide-Walk-Out.htm
Four Day Nationwide Walkout 11/2/21
It looks like it is time for the rubber to meet the road. A Four Day Nationwide Walk Out has been called to protest Vaccine Mandates. #AxeTheVax is the slogan for the strike being supported by Civil Rights Attny Leigh Dundas, RFK Jr's "Children's Health Defense organization and many other high profile doctors, individuals and organizations.  This Walk Out will take place from Nov 8 through Nov 11, 2021.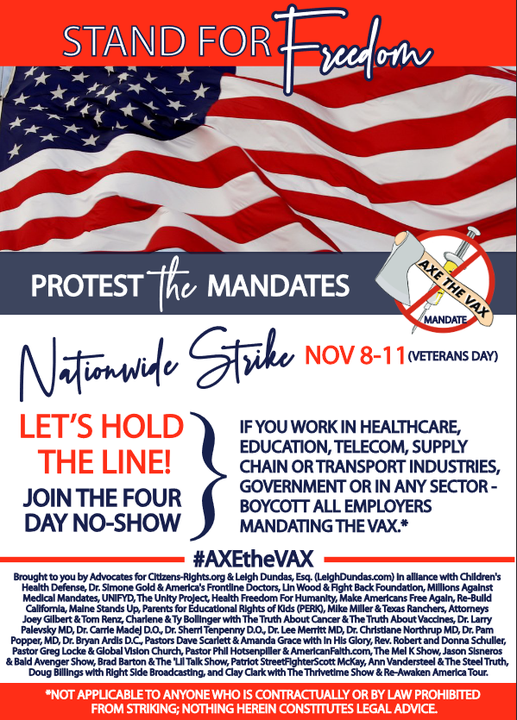 Workers from many sectors of the economy from transportation, education, supply chain, health care and government are facing job termination unless they comply with the experimental injection.  Some of these workers have been on their jobs for decades and face the loss of pensions! These blue and white collar workers are done – they are over it, have had enough and are taking a now or never stand to save their (and our) jobs and freedoms.
This Walk Out could impact what is on the grocery and retail shelves for weeks to come and send a very loud message that "We the people" run this country – not politicians. I urge you to make sure your family is well supplied to ride out the effects of this strike. At the same time I urge you to support these workers and join this strike as they take this brave move to save this country and our freedoms.
In the video below, Leigh Dundas explains the purpose of the voluntary strike, how it came into being and who is supporting it.  PLEASE HELP SPREAD THE WORD.  Text the word FREEDOM TO 53445 to receive the flyer to share with others OR share this link. Watch for more news and instructions as the date draws near.
May God be with us as we take back control of this country and destroy tyranny!