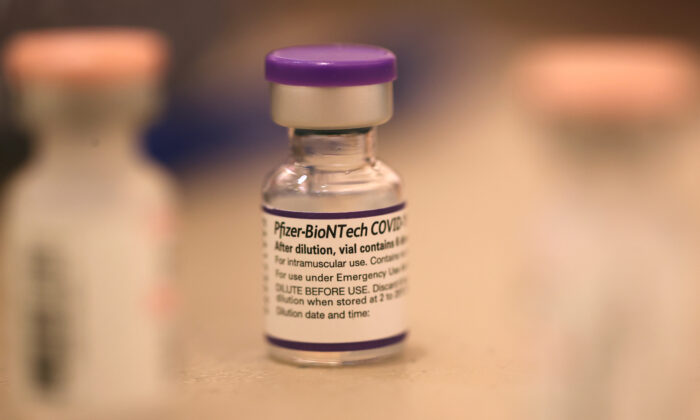 A vial of the Pfizer-BioNTech COVID-19 vaccine is seen in a file photograph. (Justin Sullivan/Getty Images)
Louisiana Teenager Given COVID-19 Vaccine Without Parental Permission
A 16-year-old boy was injected with a COVID-19 vaccine in Louisiana on a recent school day despite his parents not granting permission.
The boy was given a dose of Pfizer's vaccine on Oct. 20 at East Jefferson High School in Metairie, Louisiana, according to a COVID-19 vaccination record reviewed by The Epoch Times.
A parent's signature is required for anyone 17 or younger who wants a COVID-19 vaccine, according to the Louisiana Department of Health.
"What we have is a parent who has had her parental rights stolen," G. Shelly Maturin II, a lawyer representing the family, told The Epoch Times.
A nurse from Ochsner Health gave the boy the vaccine at the school. Ochsner has administered vaccinations on-site at a number of schools since the Food and Drug Administration authorized Pfizer's jab for children as young as 12.
The signature of Jennifer Ravain, the mother, can be seen on a vaccine consent form but the family's lawyer said she did not sign it, nor did her son forge her signature.
The boy initially thought he was signing up to get a vaccine at a later date, and planned to discuss whether to get a jab with his mom, the family's lawyer said. When he learned the shots were happening at that time, he felt pressure and got one.
Ochsner acknowledges that a mistake happened and that the boy did not receive parental consent.
"While we firmly believe in vaccinating adolescents to keep them safe from COVID-19, this should be done only with parental consent. Our team has been notified that a student was vaccinated without proper parental consent at a school vaccination event on October 20, 2021. We have procedures in place to ensure that all policies are followed; however, in this instance, this did not occur. We have taken immediate action to review our on-site vaccination policies and to ensure that these policies will be strictly enforced moving forward," Dr. Robert Hart, Ochsner's chief medical officer, told The Epoch Times via email.
"As a leading healthcare provider in this community, we value the trust that parents put in us to care for their children, and we are revising our school vaccination program to ensure that this does not happen again. We are in communication with the parent who brought this to our attention. We offer our sincere regret and apology for any distress this has caused," he added.
But Maturin said nobody has reached out to him or the family to try to resolve what happened and he is preparing a lawsuit on behalf of the family, which hopes their effort will motivate parents around the country and make them aware of what's happening at schools.
"This kind of garbage is going on around the country and it needs to stop, so I think a message needs to be sent," Maturin said.
The boy's name is being withheld because he's a minor at the request of the family.
East Jefferson High School did not respond to a request for comment.
Jefferson Parish Schools said that it is aware of the situation and that Ochsner officials assured district officials what happened was an isolated incident.
"We believe that broad participation in vaccinations reduces the risk of COVID-19 transmission and is essential to keeping our schools and community safe and healthy. Jefferson Parish Schools has partnered with multiple healthcare partners to provide vaccination opportunities to eligible employees and students since vaccines first became available. Our standard operating procedures include obtaining written consent from a parent or legal guardian prior to a student receiving the vaccine during an event conducted at one of our schools," the district said.
"We will continue to work with Ochsner Health and our other healthcare partners to ensure vaccination events conducted on our campuses follow this process."