I support the peer reviewed, scientific data against the vaccinations. Moreover, I fundamentally and financially support the information presented by AFLD
---
---
Shocking.
As many of us prepared to celebrate our faith, the White House chose to celebrate fear.
Here is what they actually said:
For those of us who are not willing to get the jab—for a myriad of reasons—we're "looking at a winter of severe illness and death for yourselves, your families, and the hospitals you may soon overwhelm."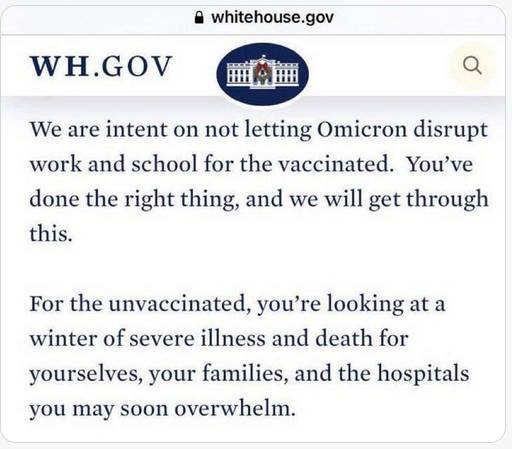 This is insane.
This White House statement should have been censored by Big Tech and Big Media as these statements are not grounded in truth, facts, or science, only fear.
Unfortunately, this nonsense emanates from the President's office, an office that leads not only the United States but the free world.
As you can see, we have our work cut out for us, and we need your financial help to carry our fight into 2022 and beyond.
Please consider making a tax-deductible year-end contribution to support the work and mission of America's Frontline Doctors (AFLDS).
Your contribution of $1,000, $500, $100, or even $50 will help pay for our Legal Action Team that is currently involved in multiple major lawsuits, will assist our efforts to continue producing educational videos that are viewed by millions and have changed the hearts of thousands more.
Plus, we will be able to underwrite our Frontline News team that is cutting through all of the fake news and propaganda to deliver you the truth.
Whatever you can afford to give, know this: every penny will support you and your freedom.
Thank you for your consideration.
Happy New Year to you and yours!
Dr. Simone Gold, Founder
America's Frontline Doctors