Thousands of people gathered in a peaceful protest of vaccine mandates in New York City's Duffy Square for the Broadway Rally for Freedom Oct.16.
Thousands of people participated Saturday in the Broadway Rally for Freedom in New York City. The peaceful protest focused on health freedom, informed consent and the right of all Americans to make their own healthcare decisions.
Children's Health Defense (CHD) Chairman Robert F. Kennedy Jr. and President Mary Holland were among the speakers. Other speakers included Dr. Lawrence Palevsky, Dr. Christiane Northrup, Jason Shurka, Jo Rose, Kevin Jenkins, Patricia Finn and John Matland.
"The powers that be, especially here in New York State, are fighting us," Holland told the audience. "We may have imagined that with Governor Cuomo's demise, we would have a breather — but no. We have a governor now who truly believes that vaccination is the state's religion, preaching to her 'apostles' at a Brooklyn Church, while wearing a 'Vaxed' necklace. You can't make this up."
Holland told the crowd about the many legal battles in New York, including CHDs involvement in challenging the repeal of the religious exemption for school children, in place since 2019, which is likely headed to the Supreme Court.
"We are winning," Holland said, as the crowd echoed a "We are winning" chant.
Holland said "we are winning" in reference to the claim that Southwest Airlines, Chicago and Los Angeles police unions and others are standing up to mandates, in many cases filing lawsuits.
"We are not finished until we have incapacitated the dragon, and until we have prosecuted those who have knowingly lied to us and who have caused irreparable harm to millions with no justification," Holland said.
The rally took place as federal, state and local governments, along with privately owned businesses, are continuing to mandate COVID vaccines as a condition of employment and access to schools, hospitals, gyms, restaurants and sporting events.
"The vaccine is not safe and effective …" Kennedy told the crowd. "How can you compel Americans to take them?"
Kennedy noted with irony that Dr. Anthony Fauci, the person behind the push for vaccinating children as young as 5 for COVID, received the annual Bill of Rights Award by the American Civil Liberties Union of Southern California.
"In what universe is it okay to say, 'we are going to make these children die in order that older people can live?'" Kennedy asked. He raised concerns about the rise of myocarditis and other COVID vaccine adverse effects on younger age groups.
"We have no business doing this to little children," Kennedy said, after explaining the average age of death from COVID is 76, the same as the average life expectancy. Subjecting children to the adverse events of COVID vaccination, he said, "is unethical. It is medical malpractice."
"There's a guy in a white lab coat who calls himself a doctor even though he's never treated a single COVID patient," Kennedy said. "And he's telling Americans to do things that violate their conscience, that violate all their values, and they're doing it because an authority figure is telling them to do it, and 67% of them are doing it, but 33% refuse to do it, and you are that 33%."
"You are the ones who are standing up for your values," Kennedy continued. "You are the ones who are going to save the country for yourselves, for your children and for the 67% when they finally come to their senses."
Watch Mary Holland and Robert F. Kennedy, Jr. at the Broadway Rally for Freedom here:
Watch the entire Broadway Rally for Freedom here:
Sign up for free news and updates from Robert F. Kennedy, Jr. and the Children's Health Defense. CHD is implementing many strategies, including legal, in an effort to defend the health of our children and obtain justice for those already injured. Your support is essential to CHD's successful mission.
MASS PROTESTS erupt across America; even Biden voters now rejecting tyrannical vaccine mandates … "Let's go Brandon" protest rap goes viral
Tuesday, October 19, 2021 by: Mike Adams
(Natural News) Across America, even left-wing Biden voters in blue cities are now joining protests against vaccine mandates and Biden's heavy handed tactics that violate medical choice / human rights.
Over just the last few days, we've seen protests by teachers in New York City, Boeing employees protesting in Seattle, Southwest Airlines workers protesting in Dallas, California parents protesting vaccines mandates in schools and a law enforcement revolt against coercive vaccine mandates in Chicago and Seattle.
"'We will not comply': protests against vaccine mandates erupt in progressive Seattle," reports the Post Millennial.
Seattle saw protests on Monday after the city and state terminated fired an unprecedented number of workers who refused to comply with Governor Jay Inslee's vaccine mandate. The requirement went into effect at midnight on Oct. 18, by which time most people would have had to receive their first shot.
The rally hosted by March For Freedom Washington brought out firefighters, law enforcement officers, nurses, teachers, and bus drivers to Seattle City Hall. The crowd met around noon and people gave their heartbreaking testimonies as to why they chose not to get vaccinated.
On Sunday, the day before the deadline to submit vaccination status, Seattle police officers who would not comply took a strong stance and hung Gadsden flags from patrol vehicles.
"I served as a firefighter for 23 years. I have seen things that you wouldn't wish on your greatest enemy. I never thought this is how my career would end," a Seattle firefighter told The Post Millennial. "Last year we were frontline heroes, this year we're enemies."
DALLAS TX: Southwest employees chant "LET'S GO BRANDON" in front of the South West headquarters to protest the airline vaccine mandate

Get More News: https://t.co/u7URmoOvPT pic.twitter.com/JwSKXrzqaa

— Drew Hernandez (@DrewHLive) October 18, 2021
Protests were also organized in Dallas, where Southwest Airlines employees were seen chanting, "Let's Go Brandon!"
"Protests are popping up all over the United States and things could get really ugly really quickly," writes Mac Slavo from SHTFplan.com.
On Monday, hundreds of demonstrators held signs aloft that read, "Terminate the mandate," "Freedom not force" and "No jabs for jobs," as they convened at Southwest Airlines' headquarters in Dallas to protest against the mandate. Attendees also chanted "My body, my choice" as they lined the highway outside the airline facility.
Former Biden supporters are now chanting, "Let's Go Brandon!"
When campaigning in 2020, Biden told America he would never push vaccine mandates. His supporters believed him and touted the progressive idea of, "my body my choice."
But it didn't take long for Biden to betray his own voter base, declaring, "YOUR body, MY choice!" by pushing coercive, dangerous vaccine mandates.
Trump is only slightly less offensive in all of this, by the way, because he relentlessly pushes covid vaccines and is still trying to claim credit for bringing them into existence.
Biden is aggressively pushing vaccine mandates as a requirement to work. By doing so, he is exposing the real agenda of the radical Left — complete tyranny and total government control over your body, your life and your behavior. For many progressives, that's just too much to swallow, and they are pushing back like never before.
In Australia, Premier Daniel Andrews is now threatening the DOUBLE vaxxed with being locked up if they don't agree to an endless series of "booster" shots (which really aren't boosters but rather contain full doses of more spike protein bioweapons). This should be a warning to all Americans: If you are foolish enough to comply with the first two vaccine shots, you will be forced to be injected with many more yet to come.
As an increasing number of former Biden supporters are now discovering, you can't "comply" your way out of tyranny. At some point, you have to take a stand against it and engage in mass civil disobedience to reject the insanity.
France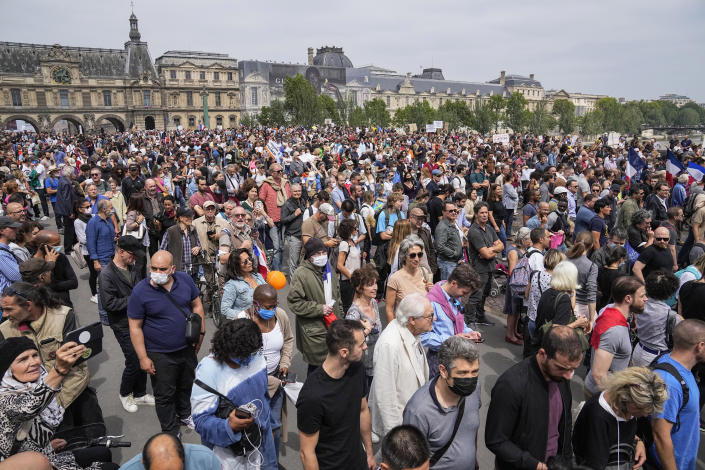 Germany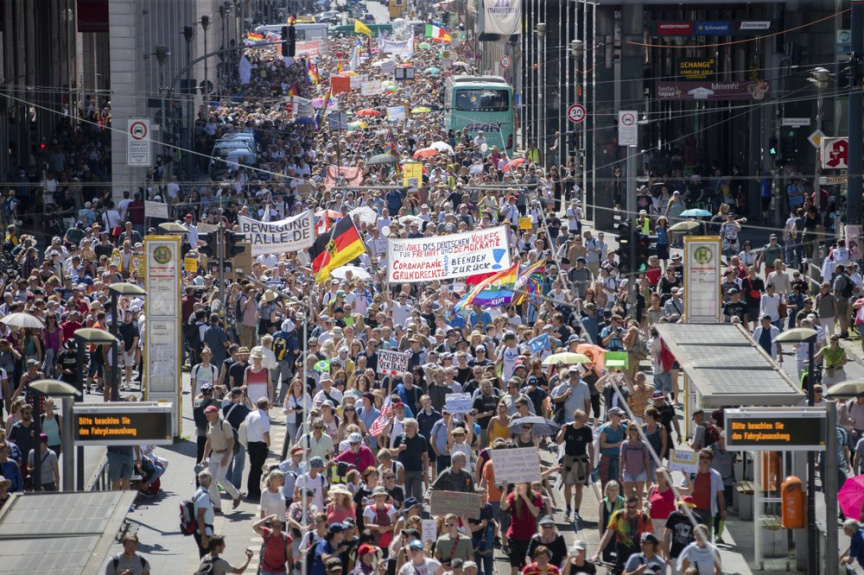 Italy